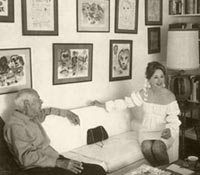 "The Waters Reglitterized", "The Angel is my Watermark", "To Paint is to Love Again", "Paint as you Like and Die Happy" all books about Dad's love of painting.
He first became interested in the 1920's when walking in NYC with a friend, Emil Schnellock, who was an artist. They stopped in front of a gallery window where Turner was displayed, Dad was enthralled. Emil started him off by lending him brushes & encouraging him to paint.
He painted mainly watercolors, turning out several thousand in his lifetime. He painted for pleasure, enjoying the process of creating. His paintings were shown in exhibitions in the U.S., Japan & Europe.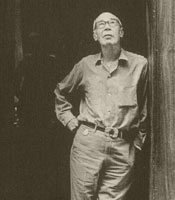 Many of his watercolors were printed as lithographs, usually in editions of 250-300 prints. Dad would have them stacked on the ping pong table taking time in the day to sign & number them. He was pleased that people liked his paintings, giving them to friends & admirers.
The art being offered hung in our home on Ocampo in the Palisades, this was Dad's personal collection. My brother and I inherited it from our father's estate. It has been in storage for 25 years, it is time to let go.